Biographie de: WENNINGTON, Bill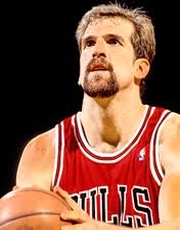 Naissance : 26 avril 1963 à Montréal, Québec
Intronisation : 2011
Discipline : Basketball
Catégorie : Athlète


West Island native Bill Wennington chooses very special occasions to come back home. Six years ago, he spent a few days in Montreal after being inducted into the Canadian Basketball Hall of Fame during a ceremony in Toronto. During another visit home, he was inducted into Quebec's Basketball Hall of Fame. Now Wennington is home to be inducted into the Quebec Sports Hall of Fame – Le Pantéon des sports du Québec.

Long before he became a basketball star, Wennington's favourite sport was hockey. «By the time I was 12, I was 6-foot-2,» the 48-year-old recalled. «My foot size was 13. It wasn't easy to find comfortable skates. I was complaining one day at the Pointe Claire centre and a fellow suggested I try basketball.»

Wennington joined a West Island YMCA program, and a year later tried out for the Beaconsfield High School basketball team. When his family moved from Pointe Claire to Dollard des Ormeaux, Wennington played for Lindsay Place High School.

During his high school years, Wennington also played with the Quebec Espoirs, improving his game under coaches Jacques Labelle and Max Fortin. «It was a provincial team and we practised at a small college in the Eastern Townships», he recalled. «We often went to basketball camps in the States.» After Wennington's parents divorced, he lived with his mother in Wheatley Heights on Long Island, N.Y. While completing Grae 11 and 12 at Lutheran High School, his basketball skills greatly improved.

«I was 16 years old and 6-foot-10,» Wennington recalled. «I had enjoyed success in Canada, but I found out quickly I had a lot to learn. I realized I had not been very good in Canada... I had just been big. Lutheran coach Bob McKillop broke down and rebuilt my game.»

After winning state high school championships in both his years at Lutheran, Wennington was selected to the McDonald's All-American USA Hight School Team. Others on the team included future NBA stars Michael Jordan, Chris Mullin and Patrick Ewing.

Wennington also was part of the Canadian team at the 1983 World University Games, beating the United States for the gold medal.

Wennington earned a scholarship to St. John's University where he played on one NCAA Final Four team under legendary coach Lou Carnesecca at St. John's, and also met Anne Caputo, a fellow student who would because his wife.

Wennington played for Canada's Olympic team in 1984 under the late coach Jack Donahue. «Representing your country in Olympics is a phenomenal experience,» Wennington said. «Donohue taught us and made things fun. We grew up as players and as humans.»

The Wenningtons live in Lake Forest, Ill. Son Robbie played football at Boston College last year and his trying out for the basketball team this year. Wennington is a longtime radio colour commentator for the Bulls.